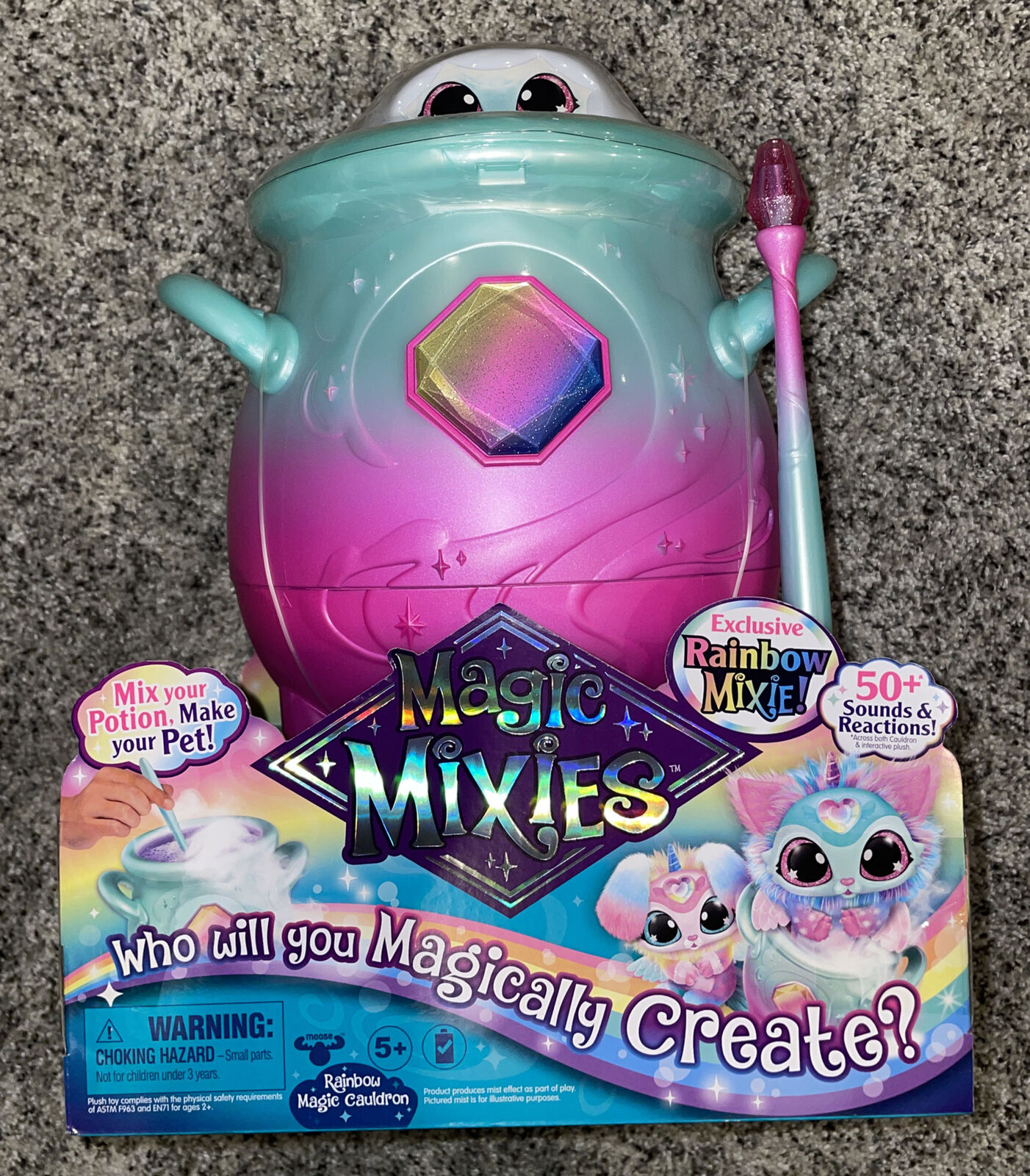 A toy cauldron that does real magic is the hottest Christmas gift in 2021. Verified Amazon reviewer, S. C. Melvin, called the Magic Mixies Magical Misting Cauldron, which went on sale October 1, 2021.
Children casting a spell are rewarded with mist and a stuffed animal nominated Creative Toy of the Year for the 2022 Toy of the Year Awards America Votes for TOTY (toyawards.org), Per the Amazon description, the Magic Mixie "chatters and mumbles enchanting magic words to help you cast spells," and may "grant you a wish!"
Distraught parents are posting reviews, angry at "Selfish People Ruining Lives," because the price has skyrocketed to over $200.
"It deflates what little faith I have left in humanity that the prices were driven so sky-high so quickly," posted reviewer Merry Rollin https://www.amazon.com/gp/customer-reviews/R1NNCTFJ9MQ8NF/ref=cm_cr_dp_d_rvw_ttl?ie=UTF8&ASIN=B08S5GWF9F. "All people like me are trying to do is provide their kids or grand-kids with a little bit of magic…."
One person posted, "Did Neil Patrick Harris at least autograph some part of this disappointing money grab?"
Harris, who partnered with Moose Toys for the cauldron's release, said, "[K]ids are actually creating…magic." https://heavy.com/toys/magic-mixies-magic-cauldron/
His YA chapter book book, "The Magic Misfits," has a semi-hidden post-script in the Amazon description: The Magic Misfits (The Magic Misfits, 1): Harris, Neil Patrick, Marlin, Lissy, Hilton, Kyle: 9780316355575: Amazon.com: Books
(Psst. Hey, you! Yes, you! Congratulations on reading this far. As a reward, I'll let you in on a little secret… This book isn't just a book. [Y]ou'll learn how to make your own magic!)
Toy collector Melvin, posted, "[N]o one has ever produced a toy like [the cauldron] before."
Verified reviewer Kim A. Steiner loves it so much she posted, "I am legit mad there isn't one for 40 year olds." https://www.amazon.com/gp/customer-reviews/R18IJP01HANL6D/ref=cm_cr_arp_d_rvw_ttl?ie=UTF8&ASIN=B08S583D9Q"
Reviewer, Ashleyboop, wrote, "I found it very cute that you can name your Mixie by writing any name you choose on the 'Naming Scroll' before you add it as the seventh step in your 'magic potion/spell.'" Scrolls and the importance of the naming process in witchcraft has been well-document by best-selling Christian author and former high-ranking Satanist, John Ramirez https://johnramirez.org/.
The reviewer, Ashleyboop, employs quotation marks to connote she does not believe it's real magic, however Moose Toys says you will "experience real magic." https://www.moosetoys.com/our-toys/magic-mixies/magic-mixies-magic-cauldron-blue/
The aforementioned reviewer describes the spell process.
"The potion (water) that you pour in disappears and when you look through the mist, into the cauldron, your little Mixie is there waiting. It's wild!"
She even helps her daughter conjure other items.
"There's a little pink box…that snaps into the bottom of the cauldron, and that is how you can 'create' anything you want! My daughter has conjured rings, small toys, and even cash for her brothers!"
Dear Jesus, please lead these lost souls to You before it is too late. In Your Name we pray. Amen.
"Outside are the dogs, those who practice magic arts…" – Revelation 22:15
---
Kristen Collier has a BA in English Literature and is co-founder with her husband, and Roku developer, of Creative Motion Network, a cutting-edge, free indie Christian Roku channel. She is also co-founder and animator of Collier Animation Studio, producer of Benny the Barnacle (2021).