The wife of the late Ravi Zacharias wrote an email to her family about her husband's alleged sexual abuse. Her husband was accused of sexting, spiritual abuse and rape," according to Ravi Zacharias International Ministries (RZIM), which conducted an independent investigation into the allegations in 2020. 
"We spoke with many witnesses, both within and outside RZIM, who saw the question of Mr. Zacharias's alleged sexual misconduct as intertwined with allegations by a woman named Lori Anne Thompson, who claimed in 2017 that Mr. Zacharias allegedly engaged in 'sexually explicit online' conversations with her and solicited indecent photos of her."
Margie Zacharias wrote that she did not find any proof of sexual misconduct.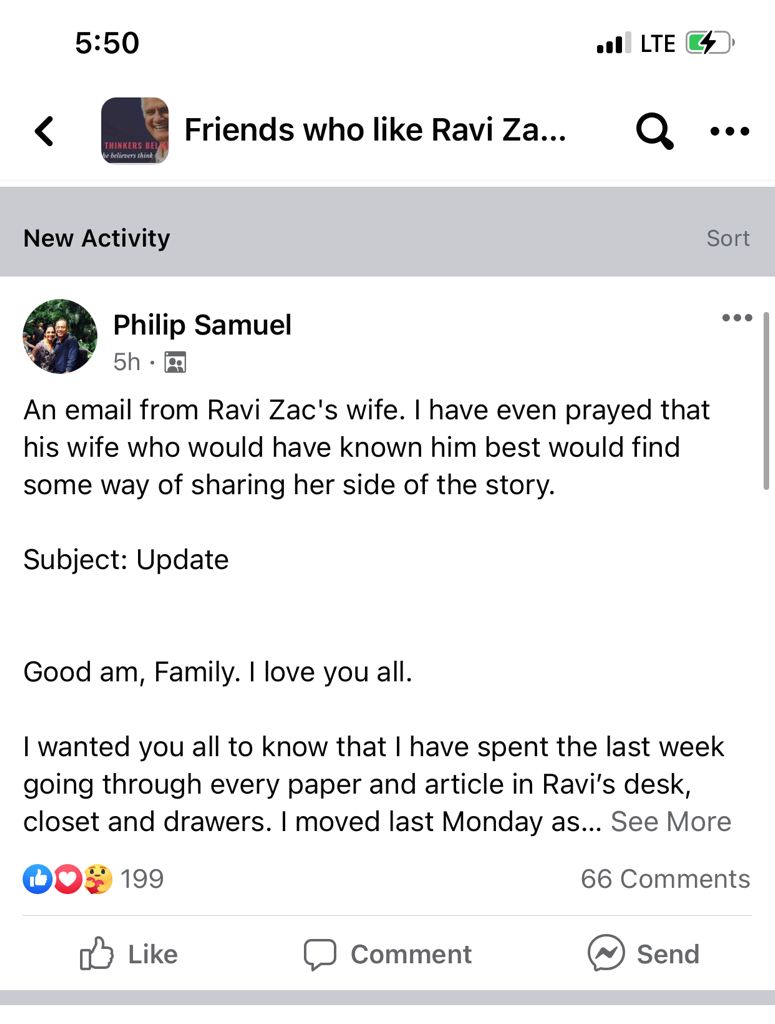 "He could never have kept a secret like they are alleging (alleging, I say, as there is not one whit of evidence to support what they are saying)," she wrote. "At the very least, with all the medication he was on at the end and his hallucinations, something would have come out."
In an article published by The Roys Report — Margie Zacharias's email was posted in a Facebook group called "Friends who like Ravi Zacharias."
She also added there was "absolutely nothing to support the claims being made or the charges against him."
The RZIM board released a statement alongside the investigation.
"Ravi engaged in a series of extensive measures to conceal his behavior from his family, colleagues, and friends. However, we also recognize that in situations of prolonged abuse, there often exist significant structural, policy, and cultural problems. … We were trusted by our staff, our donors, and the public to mentor, oversee, and ensure the accountability of Ravi Zacharias, and in this we have failed."
Ravi Zacharias was the founder of RZIM, a popular apologist for over 40 years, and best-selling author.
He died of cancer in 2020 at the age of 74.
Share your thoughts on this story and other news stories on Christian News Journal's Facebook page here.
For more news and stories of the day from Christian News Journal, click here.
—By CNJ Staff